27 Irresistible DFY Scripts
to master difficult client emails
Navigate the most challenging client situations with confidence and ease
27 email scripts that follow all the stages of a client relationship.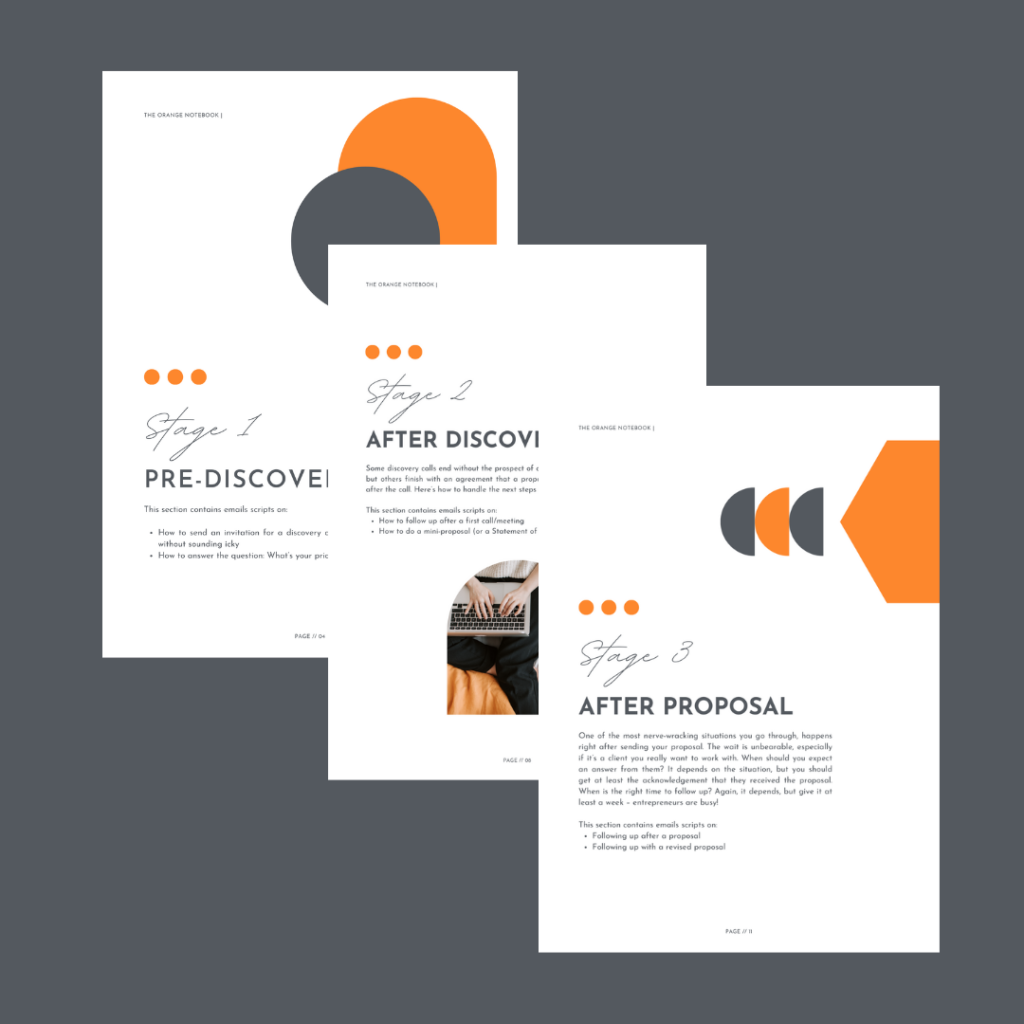 INTRODUCTORY STAGE
How to send an invitation for a discovery call without sounding icky

How to answer the question: What's your price?
PROPOSAL STAGE
How to follow up after a first call/meeting

How to do a mini-proposal (or a Statement of Work) over email?
AFTER PROPOSAL STAGE
Following up after a proposal

Following up with a revised proposal
NEGOTIATION STAGE
• How to answer: Why are you more expensive?
• How to answer: What's your hourly rate?
• How to answer: Why can't I have more free revisions?


CLIENT ONBOARDING
Welcoming a client on board


WORKING TOGETHER STAGE
• How do you tell your clients their hours have finished?
• How to answer the "it will only take you 5 minutes"
• How to handle a client's objections to your work


CHANGE OF PRICING

•How to tell your best esteemed client your prices have gone up this year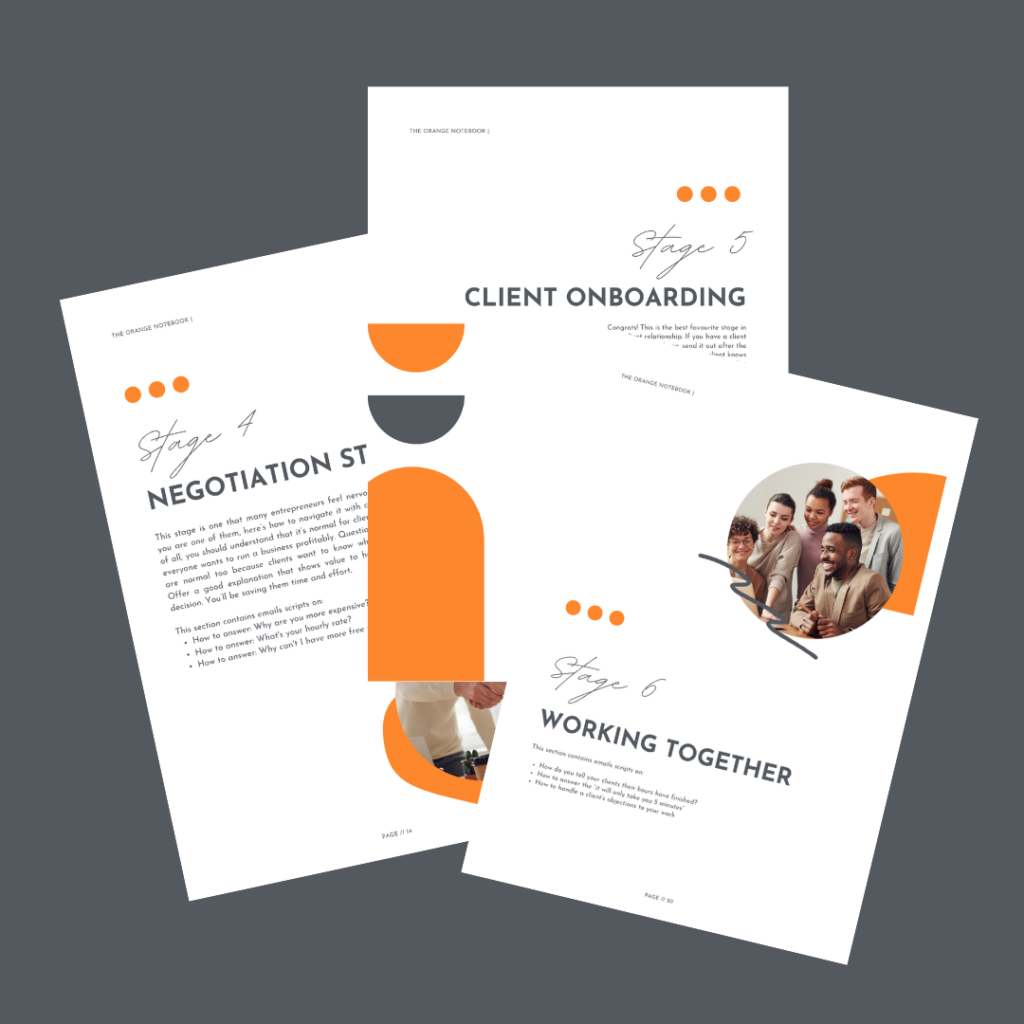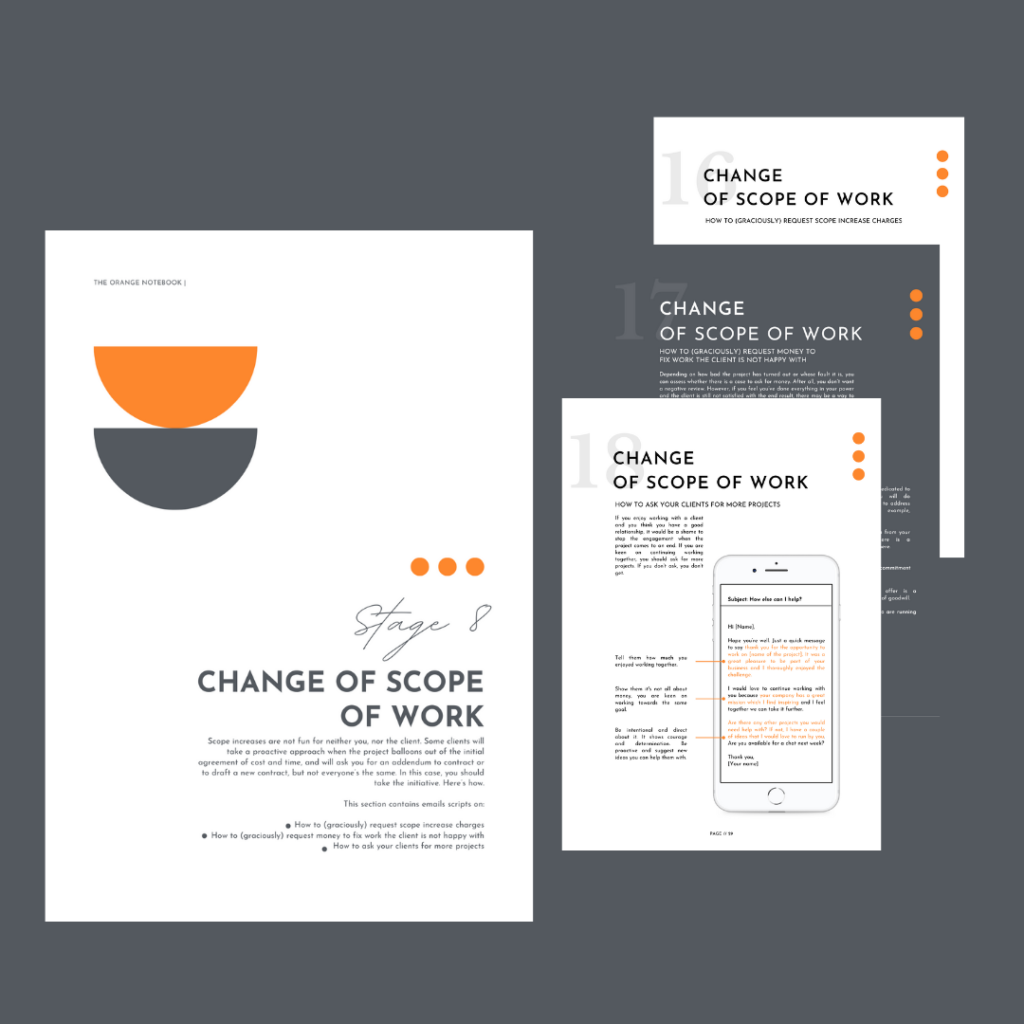 CHANGE OF SCOPE OF WORK
How to (graciously) request scope increase charges

How to (graciously) request money to fix work the client is not happy with

How to ask your clients for more projects
PAYMENT COLLECTION STAGE
How to (graciously) request to be paid on time
BREAK-UP STAGE
How to (graciously) break up with a client

How to say NO to a client without ruining your relationship

How to say NO to a client whose budget is too small for the project requested

How to say NO to a friend who wants your services for free
AFTER ENGAGEMENT ENDS
How to request testimonials

How to request a refferal
This is how you probably felt when that hot lead emailed you asking "So, what's your price?". But 3 hours later you put together an email that you were sure it was loud and clear. 
The answer? Crickets…
If you too are struggling with answering difficult client emails
If you're wasting way too much time answering one single email
If you're scared that after you press SEND you've just lost a lead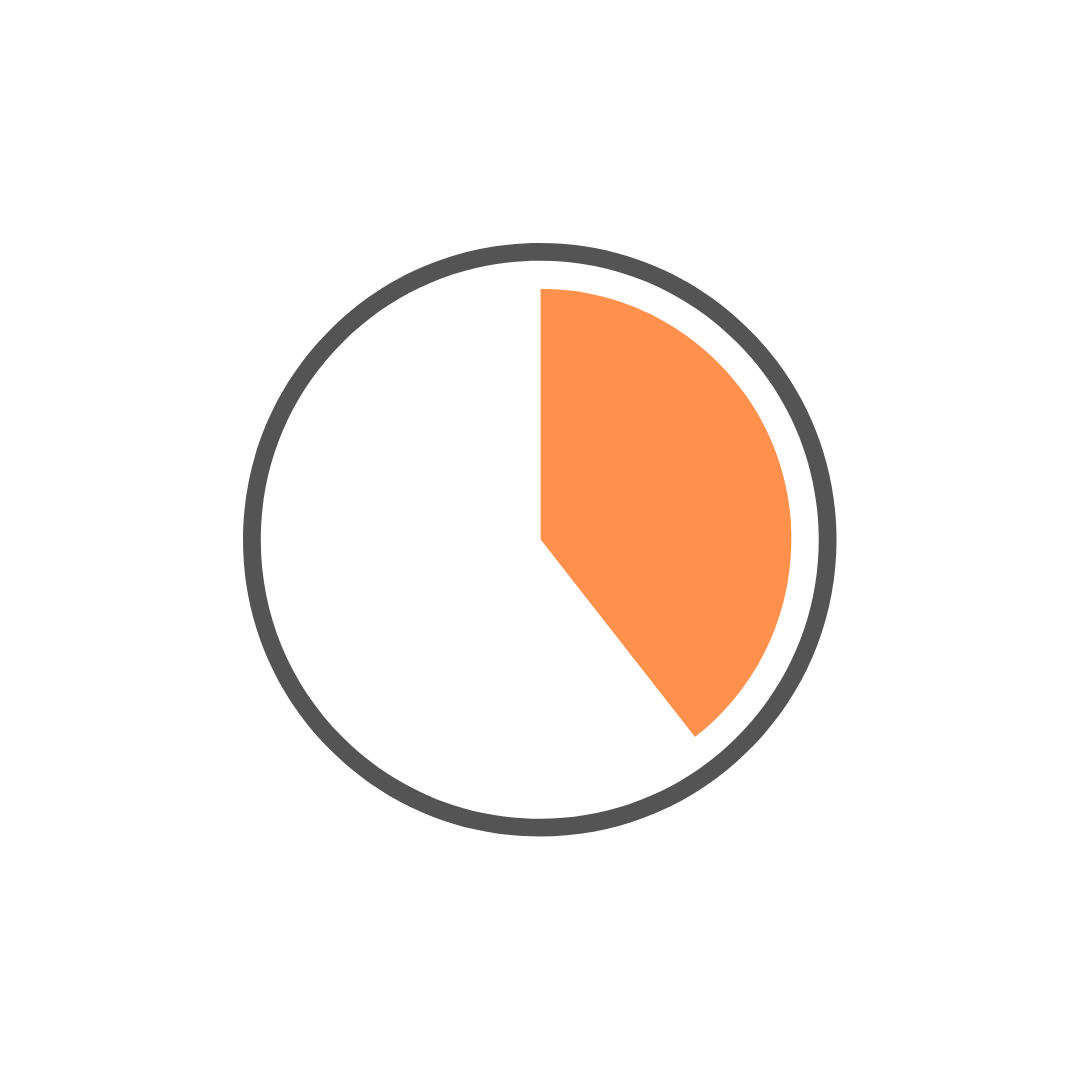 The average entrepreneur spends 4-5 hours weekly on client emails!
Every day I spend about 2h on my email. Some of it is back and forth, but the worst ones are about pricing, aftercare or answering questions. Having some email templates is a god-send! I think it saves me about 5 or 6 hours every week and it leaves the client with a very good impression.
Stefan, NS MOTORWORKS
Did you see that? That's 5 hours of time saved every week! And that's exactly what we're gonna do for you too with 27 easy to use email templates.
Because handling difficult conversations over email is part of running a business. And the way you do it is part of the brand experience you want to create.
This product is perfect because it's the most time-saving, hassle-free, strategic way to navigate challenging client situations with confidence and ease. You will…
Never get ghosted after a proposal
Feel comfortable to say NO
Get new business out of an old client
Feel confident to raise your prices
Leave that to dating only
No more compromising on who you are!
Learn the art of being diplomatic with your interest at heart
No more leaving money on the table
Get back your hard-earned money, with grace and confidence
You work hard, you deserve more
You won't just get the templates that make your life easy with copy/paste, but also the reasoning behind every email. This is NOT just a plug-and-play content resource. It's actually a strategic thinking solution! 
We wanted to equip you with CLARITY, CONFIDENCE and the right LANGUAGE to handle difficult situations even beyond email. By understanding the reasoning, you will be able to use these scripts just as well in a phone call, face-to-face, or in a scary group meeting.
This is perfect for
you if you are…
27 Irresistible DFY Scripts
to master difficult client emails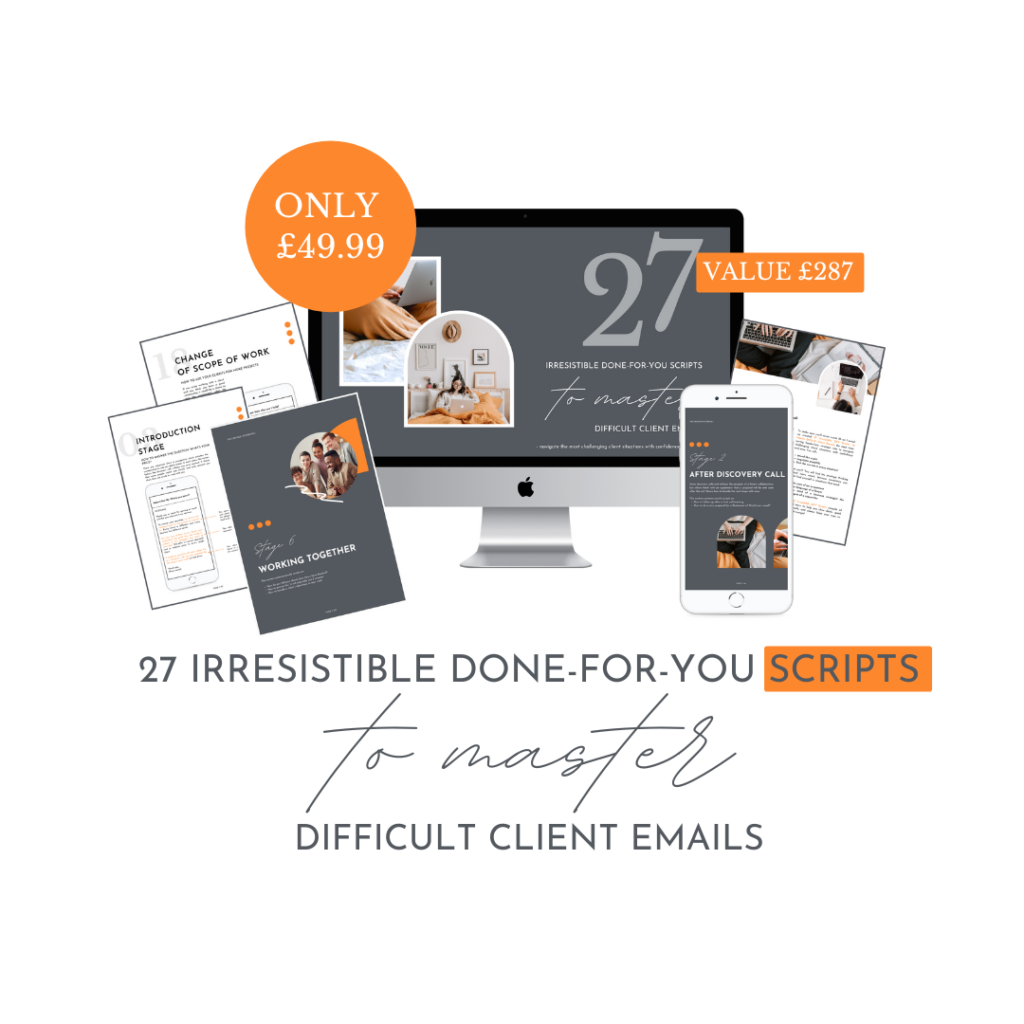 ARE YOU READY TO navigate the most challenging client situations with confidence and ease?
The total value of this irresistible plug-and-play resource is £287, but this week only you can have it for a fraction of that, £49.99. Just remember this is a time limited-offer!
Hurry up before price goes up!
Get this email makeover! It's a game-changer!
But who are we to say so?
Glad you asked! We're 3 female entrepreneurs (Corina, Alina & Beatrice) that came together under one mission: to empower ambitious business leaders to build a lasting brand legacy. We believe that branding is an experience and you shouldn't overlook any aspect of it. Especially the client interaction. 
Our combined 20 years of experience in branding and marketing means we dealt with every single situation that we addressed in these templates. 
In our own business, these tried-and-tested formulas have:
Got us extra business AFTER a project ended
Got us replies with "love the proposal! When do we start?!"
Re-kindled a relationship we thought we lost forever 
But we didn't take that for granted! So we went even further and collected answers and (scary!) stories from our own clients. All of this to design something that will really help you, the busy entrepreneur, stay on top of things and sound like a true CEO!