Branding | Content | SEO | Web Design
Grease monkeys. The vehicle repair industry doesn't look kindly on its traders. But for one independent garage that label was not readily accepted.
Break the industry stereotype of the "scrappy, dirty mechanic" and showcase a clean, quality-focused, trustworthy service specialist.
We wanted to offer Stefan a
brand identity
suitable to the impeccable garage he maintains. In order to do so, we visited the premises, listened to his brand story and together
we profiled the ideal audience for his services.
We set out to
create a unified brand composition
by pouring brand values in each element.
Starting out, it's very difficult setting a name without any online presence. We chose The Orange Notebook to establish a trustworthy brand for the local car repair market. We wanted them to help us communicate our identity and stand out from the crowd among independent car repair shops. 
I wanted to say thank you, for understanding the vision we had for this business and turning it into a real brand!
Stefan A | CEO Nick & Stefan Motor Works
From logo, to brand voice, content and web design, every part of this brand identity had to communicate quality and professionalism.
With this in mind, we chose a complementary colour palette in turquoise, black and grey to match the founder's values for elegant solutions to messy problems, steely resolve and quality-orientated approach.
The website was intended to drive traffic and engage the right audience for the services available. We decided to place 3 strategic landing pages, ready for PPC campaigns. Each page is highly optimised for a specific audience and has achieved first-page-status on Google within a couple of months. In return, this reduced greatly PPC costs for the business.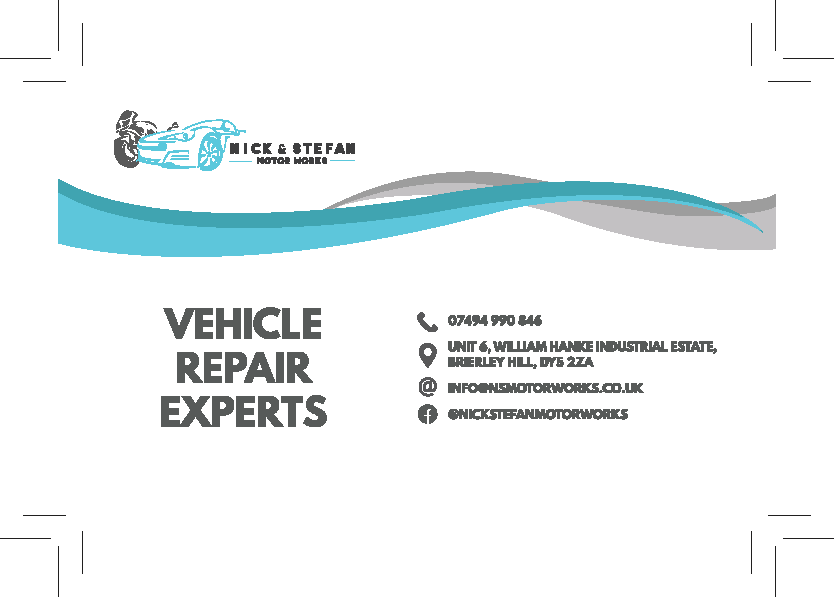 We also created concepts for business cards and a creative campaign for raising awareness. We determined air-fresheners strategically placed with local car washes would deliver the best results against the budget. 
A top-to-bottom full branding project meant we were able to bring our client the best results and a unified message reflected throughout his branding. 
The branding, website and copy were exactly what I was looking for. The brand does a great job of communicating to customers the message of a trusted mechanic. An elegant feel and a converting website. Thank you, The Orange Notebook!
Stefan A | CEO Nick & Stefan Motor Works
Like what you see? We'd like to hear from you!